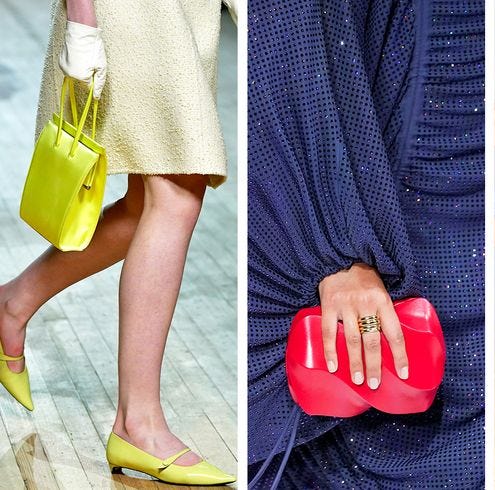 Getty Images
A new season means that there are fresh bag trends you're about to see everywhere. With fall around the corner, it's time to retire your beach tote for a seasonably appropriate accessory. As dictated by the fall 2020 runway shows, we spotted a set of strong trends ranging in different sizes, fabrics, and shapes perfect for autumn. Featuring styles from industry leaders like Bottega Veneta to indie labels you should be paying attention to, here are the five biggest bag trends worth investing in.
1 of 20
Modern Day Lady Bag
With us still figuring out how to transition out of casual wear (ie, our sweat shorts), a lady bag like the style spotted at Marc Jacobs fashion show is a quick way to polish off any casual outfit.
2 of 20
Modern Day Lady Bag
Sabrina Embossed Tote Bag
By Far
farfetch.com
$646.00
This pastel pink bag is guaranteed to sweeten your day.
3 of 20
Modern Day Lady Bag
Maria in Manzanilla
With its structured shape and neutral color, this Edas bag is your new go-to. 
4 of 20
Modern Day Lady Bag
Ineva Baguette in Green Apple Moire
For The Ages
fortheagesny.com
$205.00
A bright green bag adds a pop of color to any outfit. 
5 of 20
Shearling
What better way to stay cozy than carrying a shearling bag to match our teddy coats. Soft, fuzzy bags kept outfits snug at Dior, and Balmain, and Dries Van Noten (pictured).
6 of 20
Shearling
Mini-Mini Shearling Bucket Bag
Mansur Gavriel
neimanmarcus.com
$495.00
Bucket bags are the perfect carryall. The shearling fabric is an added bonus. 
7 of 20
Shearling
Teddy Faux-Fur Medium Tote Bag
Stand
neimanmarcus.com
$195.00
Not all fuzzy bags come in neutrals.  
8 of 20
Shearling
Mini Marcie Crossbody Bag
Chloé
farfetch.com
$1,150.00
The shearling detail on this leather bag upgrades this bag to a timeless investment for winters to come. 
10 of 20
AirPod Cases
Antimicrobial Airpod Case
Sonix
freepeople.com
$25.00
This case is made with antimicrobial material to protect against bacteria. 
11 of 20
AirPod Cases
TB-monogram e-canvas AirPods® case
Burberry
matchesfashion.com
$220.00
Burberry's e-canvas fabric is made using renewable resources, making this a conscious investment. 
12 of 20
AirPod Cases
Airsnap AirPod Case
Twelve South
nordstrom.com
$34.99
Opt for a snap closure if you're looking for a super practical case.
13 of 20
Hard Shell
As seen walking down the Bottega Veneta runway, minaudière clutches are a fun and sturdy handheld option.
14 of 20
Hard Shell
Eos Beaded Tortoiseshell Acrylic Clutch
Cult Gaia
net-a-porter.com
$300.00
The tortoiseshell droplets are an unexpected detail on this box clutch. 
15 of 20
Hard Shell
Perspex Pearl Acrylic Top Handle Bag
Simone Rocha
modaoperandi.com
$735.00
Like a pearl straight out of the ocean!
16 of 20
Hard Shell
Heart Clutch
Santi
shopbop.com
$143.00
Carry your heart in your hands. 
17 of 20
Oversized Bags
With extra room needed for new essentials like hand sanitizer and spare masks, oversized silhouettes is the bag 2020 deserves.
18 of 20
Oversized Bags
Safari XL Yellow
This yellow color will brighten up your day.
19 of 20
Oversized Bags
Large Filippo Bag
Yvonne Kone
yvonnekone.com
€699.00
The Filippo bags from Yvonne Kone are an ideal size for work, if we ever return to the office.
20 of 20
Oversized Bags
Helen Large
Ree Projects
reeprojects.com
€695.00
Taller than the average bag, it's a chic alternative to a laptop bag. 
Advertisement – Continue Reading Below
This content is created and maintained by a third party, and imported onto this page to help users provide their email addresses. You may be able to find more information about this and similar content at piano.io